The Blueberry3D software suite
Blueberry3D Terrain Editor
Blueberry3D Terrain Editor is the Blueberry3D standalone content creation tool to build real-time 3D databases.
Blueberry3D® Terrain Editor is a complete, visual and interactive environment with a logical and intuitive workflow to fully design in no time a new visual database directly from geographical raw data (DTED/DFAD elevation data, GIS vector data, Imagery) and existing 3D models (or terrain) in OpenFlight format.
Through several parameters the end-user will define and set the procedures that will generate the 3D content from the geographical raw data. Those procedures will then refine the geographical data resolution by adding 3D details and textures thanks to fractal and procedural oversampling.
Key features
    •   Elevation data modification
      •   GIS vector data edition
      •   Imagery correction
      •   Landuse Maps creation
      •   Ground Layers definition
      •   Vegetation & grass scatterer
      •   Roads, rivers, powerlines, buildings
      •   3D preview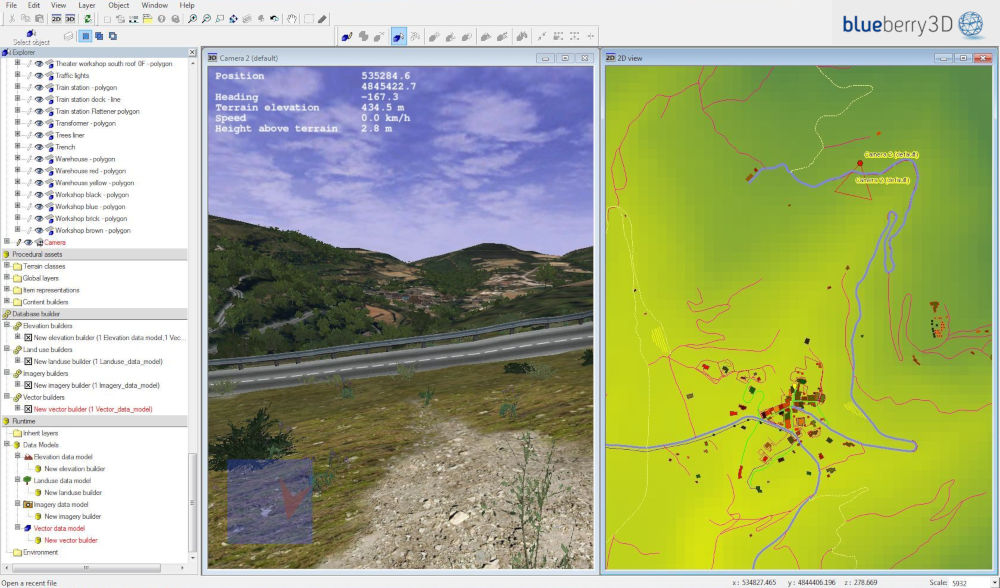 To answer which professional market?
Ground simulation
Blueberry3D  enhances raw data resolution thanks to real-time procedural approach. It generates very precise and realistic terrain grounds for vehicle-driving simulation and soldiers training 
Flight Simulation
Through very performant load-balancing mechanisms Blueberry3D can handle either low and high altitude flights over extremely realistic and large 3D scenes. It makes it the perfect technology to deal with helicopter or UAV simulation systems
Discover the complementary solutions
You need more information?