The Blueberry3D software suite
Blueberry3D Tactical Terrain SDK
Blueberry3D Tactical Terrain SDK adapts the Blueberry3D geometry solvers to address non-visual applications that need to query the terrain.
Blueberry3D Tactical Terrain SDK aims at providing CGF based applications with the same level of detail and realism as the one displayed in the IG, in order to enhance consistency.
It integrates specific procedural solving rules to support CGF back-ends' needs and constraints in terms of terrain queries, number of entities and performances.
Key features
• Blueberry3D Tactical Terrain SDK can perform thousands LOS or HAT queries at the same time for entities spread all over the visual database, with centimetric terrain precision.

• Blueberry3D Tactical Terrain SDK is provided with a VR Forces plug-in sample

• The Blueberry3D Tactical Terrain SDK can also be used to answer Physics engines (like Vortex SDK by CM LABS) in order to precisely react to a very refined terrain ground ...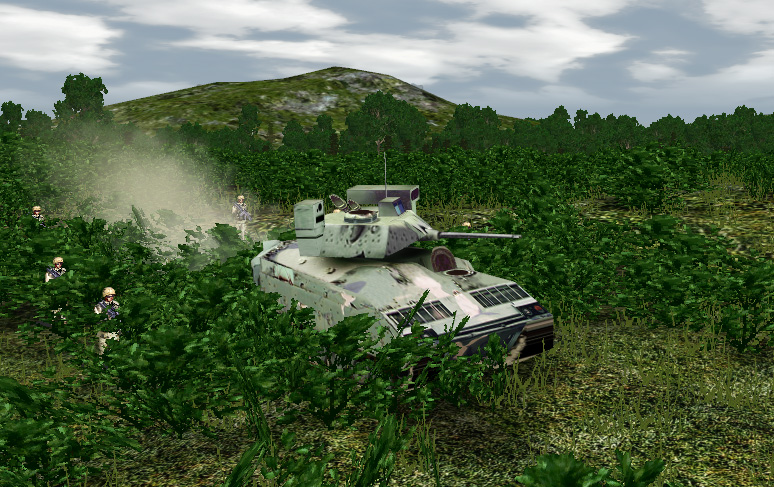 To answer which professional market?
Ground simulation
Blueberry3D  enhances raw data resolution thanks to real-time procedural approach. It generates very precise and realistic terrain grounds for vehicle-driving simulation and soldiers training 
Flight Simulation
Through very performant load-balancing mechanisms Blueberry3D can handle either low and high altitude flights over extremely realistic and large 3D scenes. It makes it the perfect technology to deal with helicopter or UAV simulation systems
Discover the complementary solutions
You need more information?